Service Specials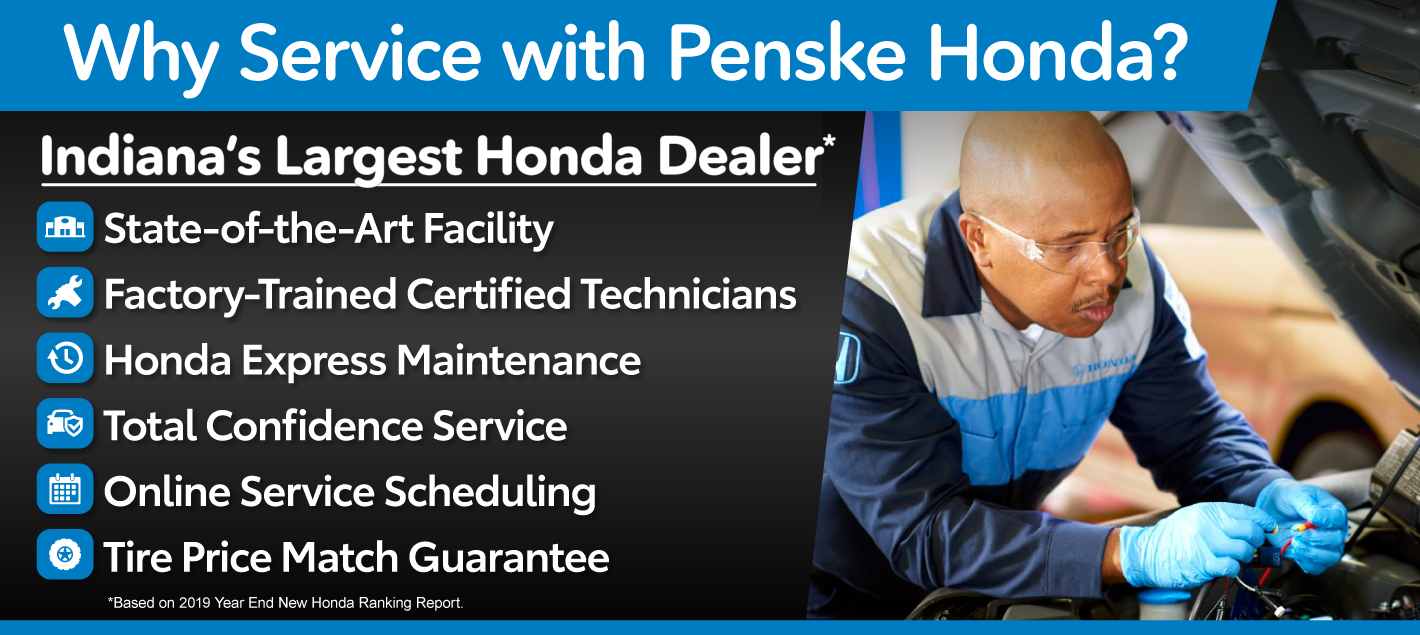 *Plus taxes and fees where applicable. Must present coupon during write-up. Not to be combined with any other offers. Expires end of month.
Honda Brake Service Coupons
Whether you're looking at a sedan like the Civic or a 3-row crossover SUV like the Pilot, Honda vehicles are renowned for their long-term reliability. With specials like brake service coupons available from Penske Honda of Indianapolis, you can keep your vehicle running in perfect condition for years to come while saving on anything from serious issues like transmission repairs to a simple oil change or tire rotation.
Honda Maintenance Service 
There are plenty of auto shops across Carmel and beyond, but they don't know your Honda vehicle like we do. Our trained and certified Honda technicians have all the latest know-how and access to state-of-the-art equipment to ensure the servicing you receive will keep you running between Fishers and Westfield with perfect peace of mind.
The Honda maintenance service schedule is in the following intervals:
7,500 – 22,500 – 37,500 – 52,500 – 67,500 – 82,500 miles 
Check and replace fluids

Rotate tires

Inspect brakes

Change oil and filter

Inspect tire pressure and treads 

Lubricate throttle linkage
15,000 – 45,000 – 75,000 – 105,000 miles 
Lubrication of chassis and all hinges

Balance and rotate wheels

Inspect undercarriage

Check struts and shocks

Check and adjust clutch pedal

Replace oil drain plug and gasket

Replace windshield wipers

Replace spark plugs if needed

Inspect A/C and heater operation

Inspect fuel systems

Inspect differential oil

Inspect brake hoses and linings

Replace air conditioning filter

Service transmission

Check park brake

Re-torque drive shaft

Inspect lights, interior lamps, and exterior lamps

Inspect steering gear box, steering systems, and steering wheel 

Take on a road test
30,000 – 60,000 – 90,000 – 120,000 miles
Service PCV valve

Lubricate propeller shaft

Lubricate wheel bearings

Inspect fuel tank cap gasket, fuel lines, and connections

Service transmission

Service battery and clean cables

Replace differential oil

Check transfer case oil 

Inspect air elements

Check all exterior and interior lamps

Propeller shaft flex coupling inspection

Inspect battery and clean terminals

Road test and quality control
Curious about what the Honda service price list looks like? Since different cars require service at different intervals and some might need repairs, it is difficult to say what the prices are exactly for the services your Honda needs. However, if you contact us, we can tell you the latest pricing for all of the services your car needs near Carmel!
Why Choose Penske Honda for Certified Service? 
While you can lower the overall Honda service price list with our specials, you can enjoy even more perks, such as:
Express Service: Modern drivers often need to get in and out quickly. Express Service™ technicians can help by swiftly taking care of minor maintenance work and providing a multi-point inspection at no extra charge. Express servicing covers oil changes, filter changes, wiper blade replacement, tire rotation, and battery checks.
Collision Center: Thanks to our collision center, we can help bring your vehicle back to proper running condition even if you're involved in a serious accident.
Take Advantage of Brake Service Coupons and More
Whether you want to order parts or schedule servicing, we're always here to help. For any further advice or assistance on figuring out your personalized Honda service price list, feel free to get in touch today!